Digital Derivatives – March 20th, 2020
Digital derivatives is a weekly newsletter bringing you the latestresearch,informationandanalytics from thecryptocurrency derivatives spacebrought to you byDelta Exchange.
Market Commentary From Delta CEO, Pankaj Balani
Bitcoin crash last week was partly because of theextra leveragethat the system was carrying in anticipation of a halving rally. Traders were sitting onleveraged longsbut more importantly miners were also levered. We had seen that miners had stopped selling BTC as early as Oct-Nov last year and were borrowing fiat against mined Bitcoins, in order to fund theiroperations.
Amid this, as global markets became nervous over Coronavirus' spread,asset prices tumbled across the board. This caused the over-leveraged system to implode and we werecaught in aliquidation spiral. Bitcoin witnessed aggressive selling on both cash & futures exchanges.Open interest on Bitcoin futures came down by about60%and we are currently close to12 month lows. On the margin trading side, we saw that thelong/short ratiowhich was~8.5 timesin the beginning of March,came down to~1.3 times. The demand to borrow and short BTC was so high that at one point BTC borrow rate was close to40% per annum.(Data source – Bitfinex)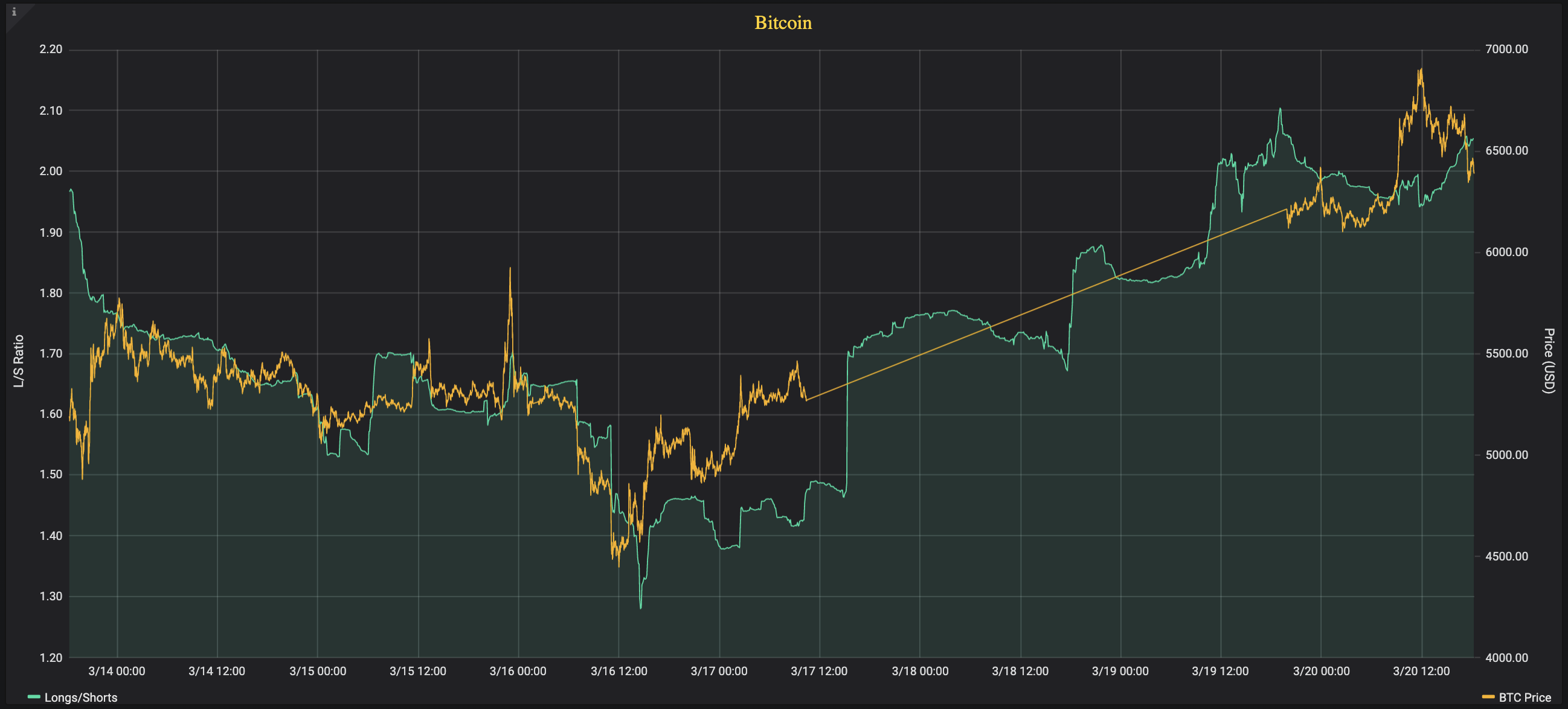 Though this sharp drop cleared the extra leverage that the system was carrying, it also pushed Bitcoin deep into theoversold territory. This created grounds for a bounce and we've seen Bitcoin decoupling itself from other risk assets and surging ahead. Bitcoin prices have gainedover 30% in the last 2 days. June futures on Bitcoin which were at~5% discount last Fridayhave recovered and are now quoting only1.5% discountto the spot.
The recovery has been sharp but we are not out of the woods yet! Global markets & Bitcoin will remain volatile for sometime, at least till the time we get more clarity on how long the lock-down is going to last and what would be the true impact of#CoronaCrisis.
Bitcoin (BTC) –$6,678.08 (+19.69%)
Ethereum (ETH) –$146.03 (+18.67%)
Ripple (XRP)–$0.168 (+12.13%)
Bitcoin Cash (BCH)–$233.10 (+25.20%)
Litecoin (LTC)–$41.40 (+16.64%)
EOS (EOS) –$2.41(+18.14%)
Tezos (XTZ)–$1.78(+18.60%)
BitMEX Open Interest Remains Low
Last week,Open Interest (OI)on the XBTUSD pair on BitMEXdropped to a one-year lowas Bitcoin fell below $4,000. In the 7 days following this, OI across futures platforms has failed to see any significant growth, remaining relatively fixed at $392.8m. This suggests continued hesitancy amongst traders as uncertainty looms across all asset classes.
USD Stablecoin Supply Surges

Over the past month, the supply and market capitalisations of USD-backed stablecoins has jumped significantly in response to unprecedented market volatility.The supply Tether (USDT) has grown by$900 million (+19%)since March 1st, with USDC growing by$200m (+43%)and PAXOS (PAX) growing by$30 million (+21%)in the same timespan in response to growing market turbulence and traders exiting volatility.
Interestingly thesupply of DAI (DAI), the Ethereum-based stablecoin,has fallen by over $5 million (28%), with the price spiking above $1.09 on Monday March 16th.

Bitcoin Futures Recover To 1.5% Discount

June Bitcoin Futures haverecovered slightlyfrom last week's mania and are currently trading at a1.5% to spot prices. This comes a mere week after futures were trading at a 5% discount to spot price as Bitcoin fell below $4,000. Over the past 7 days Bitcoin has recovered strongly with a +40% gain and a blast past $6,600. In the process it seems Bitcoin has (momentarily) decoupled from stocks and gold.
Bitcoin Lending Rates RaiseAs Demand Grows
Popular cryptocurrency lending platform BlockFI hasraised their interest ratesfor Bitcoin and Ethereumas borrower demandgrows amidst volatility. As of April1st, Bitcoin lenders can earn up to6.4% APYon BlockFi, with Ethereum lenders earning up to4% APY. This is up from 4.9% and 3.6% respectively.Bitfinex has also experienced a significant hike in itsfunding rates with Bitcoin lenders currently able to earn +15% APY and Ethereum lenders taking in up to 7% APY.
The CBOE Volatility Index 'VIX' slows growth at 58 after reaching 12 year peak – 82 – on Wednesday March 28th.
The Bitfinex Long/Short Ratio droppedto 1.3 this week – its lowest value since July 2019.
The Bitcoin halving is set to take place in 53 days, on May 13th 2020.
Delta Exchange Developments
Launch of Tether Gold (XAUT) Perpetual Futures
On March 16th we announced the addition of Tether Gold (XAUT) perpetual futures to Delta. Traders can now trade gold futures against USDT with up to 20x leverage. XAUT is a digital token backed by physical gold which a price pegged to that of gold. View the XAUT market on Deltahere.
Growth of BTC & ETH MOVE Contracts
Last week we launched BTC & ETH MOVE Contracts as the first exchange in the digital asset space to do so. Over the first week, MOVE BTC contracts did $1.2 million USD in volume whilst MOVE ETH contracts did $0.25 million.
MOVE Optionsare an exciting new class of derivatives contracts, where the price is proportional to the absolute value of a movement in the price of the underlying asset (BTC or ETH), over a certain time period. As such, the direction of movement of the asset becomes irrelevant, allowing traders to bet on the underlying movement and volatility of the contract.
Read our in-depthMOVE Contracts Guideand view the markets here:
Insurance Funds & Derivative Exchanges
Our analyst,
Pooja Shah
, wrote a piece on why liquidations and insurance funds are part and parcel of leveraged trading. Key points of the piece as follows:
In leveraged trading, traders can take positions that are multiple times (e.g. 100x) the size of their capital/equity. This leverage amplifies both profits and losses and thus is a double-edged sword.
Due to this, traders can lose > their equity. To prevent this, exchanges liquidate positions, i.e. close them before equity goes negative. Price can & does move faster than exchanges can react meaning liquidations aren't always 100% successful.
Negative equity situations mean there are "orphaned losses" in the system that need to be borne by somebody. Strategies to deal with this include:

Socialize losses among traders through clawbacks;
Auto deleverage profitable traders;
Get the exchange's insurance fund to absorb the "orphaned losses".

Thus, when a trader ends with negative equity, the resulting hole is funded by other traders and/or the insurance fund. Note the negative equity trader isn't asked to provide more funds.